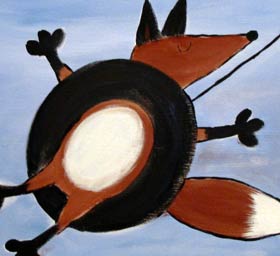 Andralynn Creative Designs
Texas
I love creating whimsical, quirky art inspired by my children and their wonderful imaginations. Every piece is approved by both my daughters and must comply with the following checklist:

Fun? Check.
Silly? Check.
Colorful? Check. (This one is gauged by how long my two-year-old will point at it and ooh and aah.)

Everything I create has a story to go along with it, thanks to my daughters. It's usually long and complicated, with princesses and monsters, but it's imaginative and I love that I can inspire that kind of creativity in my girls.

My art can be seen at Cook Children's Medical Center in Fort Worth, Texas and Howe Unique in Denton, Texas.