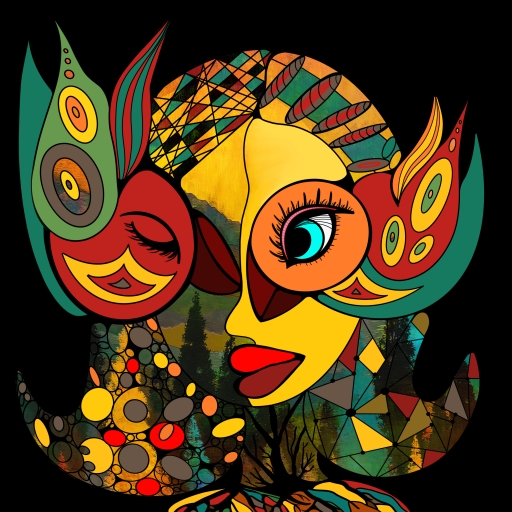 Gabaya Design
Montréal, Canada
Mélanie Lebel-Morin, Illustratice québécoise
À propros de moi!
Le dessin est ma passion ! La gestion de projet, mon occupation !
Je suis une illustratrice pigiste du Québec. Dans mon quotidien, en plus de dessiner, je travaille pour un programme d'initiative jeunesse en STEM (Science, Technologie, Ingénierie, Mathématiques) au sein d'une agence fédérale. Le meilleur des deux mondes quoi! J'aime à penser que c'est ce que vous pouvez voir dans mes illustrations en tout cas...
Originaire de Montréal, j'ai étudié la production cinématographique à l'Université Concordia et je suis bachelière en Beaux-Arts (Mel Hoppenheim School of Cinema). Autodidacte, j'ai commencé à dessiner au début de la vingtaine et, depuis quelques années, le dessin numérique est devenu ma toile créative. Toujours à l'affût de nouvelles techniques, je ''trippe'' sur mon Ipad et Procreate !
Toujours à la recherche de nouveaux thèmes, mes images sont très colorées et amusantes, du moins je le pense ;) Ayant vécu en Colombie Britannique pendant 15 ans, je m'inspire souvent de mes souvenirs. Un bord de mer, un caillou coloré, une activité nautique ou encore un de mes nombreux road trip. Souvent, juste la jolie structure d'une plante marine ou un détail vintage m'emballe : tout m'émerveille! J'aime le mélange de couleurs vives et de textures "réinventées à la Mélanie", qui se marient parfaitement avec les sujets de mes illustrations.
Et comme mon métier principal est dans le domaine spatial, je m'intéresse de plus en plus à l'espace et à la technologie dans mes illustrations, …ce qui est en soit une suite logique de mon amour pour la science et de mon soucis de la perfection. J'ai une petite maladie qui s'appelle ''La précision''. Un petit point mal placé me dérange. C'est pourquoi je passe souvent de longues heures à fignoler mes projets...
Je suis membre d'Illustration Québec. IQ organise des évènements et des expositions plusieurs fois par an. Je réalise également des dessins pour des événements et des initiatives de charité. Les organisations me contactent pour la conception de leurs bannières et murales et pour la mise en page de leurs publicités. J'aime participer à des événements artistiques locaux en tant qu'artiste invité pour inspirer et être inspiré et pour partager nos passions respectives.
Je reste disponible et très ouverte pour répondre et adapter mon style à toutes vos demandes. Retrouvez toutes mes actualités sur mon site web et mes illustrations en cours sur Instagram.
Vous êtes présentement sur le site web de ma boutique en ligne avec Art of Where (AOW), une compagnie québécoise qui fabrique tous ses produits dans un studio de Montréal. Ils s'occupent de tout, de l'impression à la couture en passant par les contrôles qualité. Bienvenue!
***
Melanie Lebel-Morin, Quebec Illustrator
About me!
Drawing is my passion! Project management, my occupation!
I am a freelance illustrator from Quebec. In my daily life, in addition to drawing, I work for a youth initiative program in STEM (Science, Technology, Engineering, Mathematics) within a federal agency. The best of both worlds! I like to think that's what you can see in my illustrations anyway...
Originally from Montreal, I studied film production at Mel Hoppenheim School of Cinema and have a Fine-Arts degree from Concordia University. Self-taught, I started drawing in my early twenties and, in recent years, digital drawing has become my creative canvas. Always on the lookout for new techniques, I ''am crazy about'' my Ipad and Procreate!
Always looking for new themes, my images are very colorful and fun, I like to think so ;) Having lived in British Columbia for 15 years, I am often inspired by my memories. A seashore, a colorful rock, a water activity or one of my many road trip. Often, just the pretty structure of a marine plant or a vintage detail will wow me! I love the mix of bright colors and "Mel's reinvented" textures which blend perfectly with the subjects of my illustrations.
And as my main profession is in the space field, I am more and more interested in space and technology in my illustrations, ...which is in itself a logical continuation of my love for science and my real unease for perfection. I have a little disease called ''Precision''. A small point misplaced bothers me. This is why I often spend long hours polishing my projects...
I am a member of Illustration Quebec. IQ organizes events and exhibitions several times a year. I also create drawings for events and charity initiatives. Organizations contact me for the design of their banners and murals and for the layout of their ads. I enjoy participating in local art events as a guest artist to inspire and be inspired and to share our respective passions.
I remain available and very open to respond and adapt my style to all your requests. Find all my news on my website and my work in progress on Instagram.
You are currently on the website of my online store - Art of Where (AOW), a Quebec based company that makes all their products in a studio in Montreal. They take care of everything from printing to sewing to quality control.
Welcome!
[email protected]
https://gabayadesign.wixsite.com/folio
www.instagram.com/gabayadesign