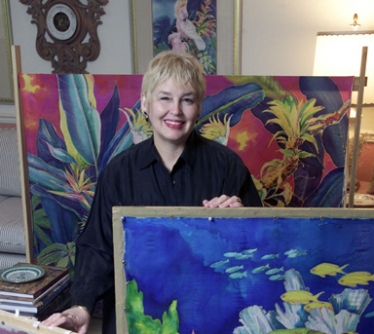 I am a one woman show (except for the support of my family).

Drawing, designing and painting have been my love since I was able to hold a crayon.
I took lessons from Dalhart Windberg and Dick Turner in Corpus Christi, Tx.
Several of my paintings have won awards in local and south Texas shows. My paintings and prints are in collections around the world.

My grandmother was a China porcelain painting teacher and learned to paint on porcelain from her.

My silk painting began when I wanted to design my own clothing. So I bought some books and taught myself. The colors of the dyes on silk are fabulous. They take my breath away.
A lady in Tulsa, Oklahoma was teaching silk painting in the eighties and I went there to take a few lessons.