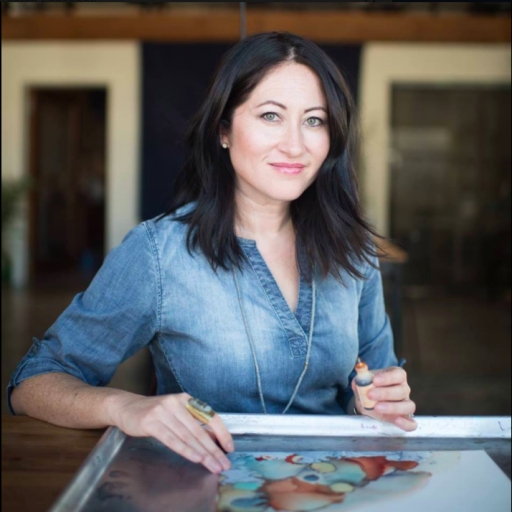 Karen Ruane Studio
Bend, Oregon
Karen Ruane was born in San Francisco, CA in 1978, but primarily raised in Tucson, AZ, where Karen's love for art blossomed like a desert rose. The beautiful landscape of the Sonoran desert was the perfect backdrop for inspirations in color and composition. Always fascinated by the "science" of art, Karen pursued a BFA from the University of Arizona, graduating Magna Cum Laude in 2001 having focused both on painting/illustration and graphic design.

Since completing her education (not that her education is ever complete!), Karen has lived several lives; wife, mother, and business owner among them. However, Art and creating has always woven itself into all veins of her journey.

In recent years, Karen has honed in on the fluid arts; including fluid acrylics, alcohol inks and paper marbling. Her work was recently seen in mass on the Deschutes Brewery Jubelale Beer label for 2016. She also teaches an eCourse in Alcohol Inks and produces artwork on commission for local businesses and private collectors all over the world.

Currently, Karen lives in Bend, OR with her husband and two daughters.