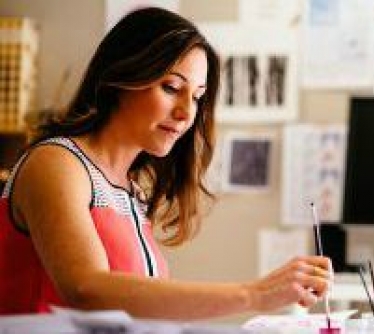 Nicki Traikos
Unionville, Ontario
"I love really well thought out designs and products. My taste is really a mix of clean, modern elements, almost a masculine feel that's balanced by motifs with nature, flowers and soft shapes. I don't like busy patterns and feel more relaxed when my eye can "rest" on an object. But I do want to FEEL something when I look around me. Design for me is all about being subtle but interesting."

"I'm not huge on colour. I love white with bold, black lines that are crisp and decorative. I'm a huge fan of positive imagery and quotes. I feel that surrounding yourself with positive imagery and quotes can energetically charge you and your environment."

"I also have a cheeky and playful sense of humour and love the reaction I get from people who experience my designs that incorporate a bit of that sass whether it's on a coffee mug or a greeting card. It's what makes me really laugh out loud… for real!"

"I love décor that is relevant and relatable. The art and products that I create aren't meant to be cherished or kept for lifetimes to come. The art and products that I create are meant to change with you, to grow with you and inspire change and growth within you. Sometimes they are just meant to accent a room, brighten up a morning or share with a friend who needs a pick-me-up!"

"What I offer is… art that you can use that changes as you change!"