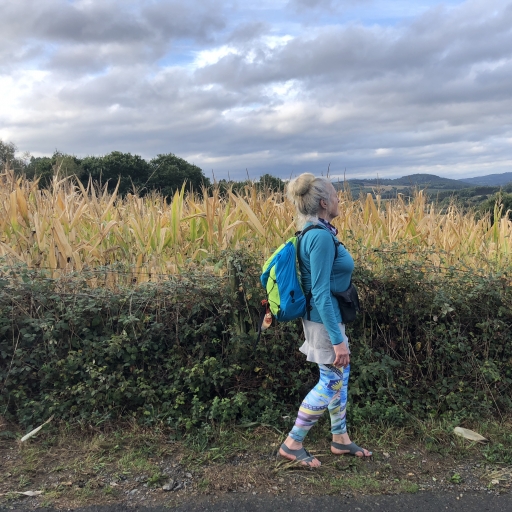 Sue Regan Kenney
Toronto, Ontario
This line of clothing and accessories were inspired by Sue Kenney, who has walked the Camino 25 times and led many groups as a Camino Coach and Guide. She's written 2 books on the Camino and one of them, My Camino, is in development as a feature film. Sue's passion is to inspire people to walk the Camino de Santiago in Spain or be present as they walk their own life journey at home. She has activated this line with the spirit of the Camino.

Sue is focussed on helping pilgrims to adapt to the journey back home. Often one of the challenges pilgrims face is integrating the profound experience of walking every day on a spiritual path when we get back home. By designing My Camino Collection of clothes and accessories you can imbue the spiritual experience into the clothes we wear each day. When we get home we can wear the same clothes and be reminded of the precious moments, the kindness of strangers, the joy of meeting people from around the world, the challenges that have to be overcome and the universal love that was experienced.

Sue is also a certified Wim Hof Method Instructor who lives a barefoot lifestyle.