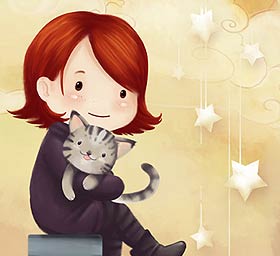 Trenchmaker
Anne was born in 1982 in Frankfurt (the small one) in Germany and decided at the age of 19 that Berlin would be a perfect place to work and live.
After spending a few months in Vienna in 2004 she came back to the best capital in the world- Berlin. In her pockets she carried the idea of a small bunny girl named Kulla and devoted the next years to the small bunny which resulted in a book series and some sleepless nights.

In 2012 she still lives in Berlin and works on boardgames, a comic project and the fourth book of Kulla.

Anne loves her cats (Hantje and Tretel), new challenges and good books (sometimes she reads the bad ones as well... ).