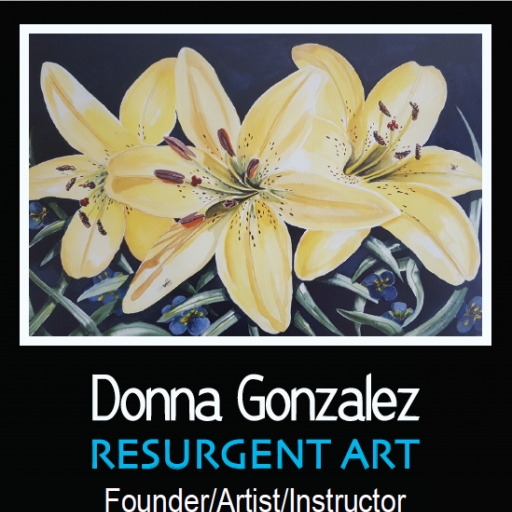 Resurgent Art LLC by Donna Gonzalez
Wyane, MI
Donna Gonzalez is a Metro-Detroit based artist and educator and the owner and founder of Resurgent Art LLC, an art business.
Gonzalez holds a degree in art history from University of Michigan and a media design degree from Full Sail University. She is a also a gifted art professional currently teaching art and graphic design, and does speaking engagements within the Metro-Detroit area. Drawing upon her years of experience in both art theory, academia, art, and design enables her to paint these vibrant fabric designs.
Influenced by art nouveau, bold geometric shapes and colors a synergistic pattern emerges resembling stained glass, or a mosaic. Each of the these fabric designs you see on the following products here on AoW is just a fraction of the entire artwork she painted. It is precisely this that makes her designs an unconventional wearable art style for those choosing something entirely new. She chooses not be constrained by traditional fashion trends.
Besides creating fabric prints Donna is also an accomplished painter, working in abstract, and prophetic, and is also a paper cut artist. Her paper cuts were juried and accepted as one of the top 30 finalists in the 2018 Great MI Artist contest. Her works are currently being shown in local galleries and venues.
To see and read more about her other works visit: www.resurgentart.com
Follow her on Instagram for latest updates!
dgartist1982
All of Resurgent Art LLC artwork and designs you see on Art of Where are copyrighted and registered with the U.S. Copyright Office. Please respect the law, the artist and this company by not doing copyright infringement, that means: Do not download, copy/reproduce, make derivatives of, store, save, archive, post, upload, edit, retrieve any of these artworks and designs without written consent of the owner Donna Gonzalez.
Questions/Comments/Interested in licensing her work? Email Donna at:
[email protected]
© 2016 Resurgent Art LLC by Donna Gonzalez